[VIDEO] EXCLUSIVE: Here We Go Again: North Korea Fires Missile Over Northern Japan
Here they go again. Firing a missile over my head. Early this morning I captured this video with my phone – primarily the audio of the emergency alert – sometime between 7:00 and 7:30 a.m.
Iwate, Tony City, Japan is about 625 km south of Hokkaido. So it's not really over my head. But Iwate is among the regions that got the emergency alert.
Reuters has this:
TOKYO (Reuters) – North Korea fired a missile that passed over northern Japan early on Tuesday, the Japanese government said.
The government's J-Alert warning system advised people in the area to take precautions, but public broadcaster NHK said there was no sign of damage.
The Japanese military did not attempt to shoot down the missile … (read more)
Source: Reuters
Here's one of the videos I from my window on the second floor of our house:
And another alert, from a few weeks ago, August 29th, 2017:
The Guardian has this:
Sirens blared out, trains stopped and residents took cover as missile fired by North Korea soared over Japanese territory for two minutes.
Justin McCurry reports: It was the early morning wake-up call millions of people in northern Japan had been warned about for months but which most had hoped would never arrive.</p.
The first inkling that their fears had been realised came with a government text just after 6am local time informing them that four minutes earlier, North Korea had fired a missile that was soon expected to pass through the skies over Japan's northern regions.
The short distance between the two countries means people were given less than 10 minutes to follow official instructions to take cover, either in scarce underground shelters or in sturdy buildings. The reason, the text message said: "Ballistic missile launch."
Moments later, the public broadcaster NHK and other TV networks broke off from regular programming to give live coverage of sites beneath the flight path and missile defence batteries ready to shoot down the missile if it was deemed a threat to public safety.
Sirens blared out in towns close to the missile's path as it soared over Japanese territory for two minutes before crashing into the Pacific.
And then the danger – which was most likely to have come from a mid-flight malfunction – had passed, the only concern now the possibility that debris from what is believed to be a Hwasong-12 intermediate-range missile was hurtling towards Earth.
"A short time ago, a missile apparently passed above this area. If you find suspicious objects, please don't go near them and immediately call police or firefighters. Please take cover in secure buildings or underground."
North Korea's launch towards Japan – a key US ally and the Korean peninsula's former colonial ruler – marked a huge escalation by Pyongyang amid tensions over its weapons ambitions … (read more)
Source: The Guardian
North Korea fires missile over Japan in longest-ever flight
SEOUL, South Korea (AP) — North Korea fired an intermediate-range missile over Japan into the northern Pacific Ocean on Friday, U.S. and South Korean militaries said, its longest-ever such flight and a clear message of defiance to its rivals.
Since President Donald Trump threatened the North with "fire and fury" in August, Pyongyang has conducted its most powerful nuclear test, threatened to send missiles into the waters around Guam and launched two missiles of increasing range over U.S. ally Japan. It tested its first-ever intercontinental ballistic missiles in July.
The growing frequency, power and confidence displayed by these tests seem to confirm what governments and outside experts have long feared: North Korea is closer than ever to its goal of building a military arsenal that can viably target both U.S. troops in Asia and the U.S. homeland. This, in turn, is meant to allow North Korea greater military freedom in the region by raising doubts in Seoul and Tokyo that Washington would risk the annihilation of a U.S. city to protect its Asian allies.
South Korea's Joint Chiefs of Staff said the missile traveled about 3,700 kilometers (2,300 miles) and reached a maximum height of 770 kilometers (478 miles).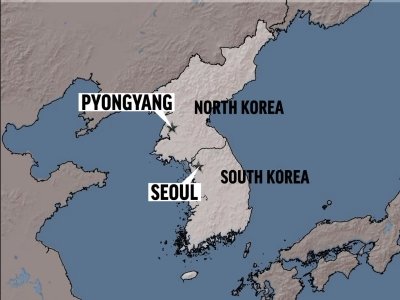 North Korea fired an intermediate-range missile over Japan into the northern Pacific Ocean on Friday, U.S. and South Korean militaries said, its longest-ever such flight and a clear message of defiance. (Sept. 15)
North Korea has repeatedly vowed to continue these tests amid what it calls U.S. hostility — by which it means the presence of tens of thousands of U.S. troops in Japan and South Korea. Robust diplomacy on the issue has been stalled for years, and there's little sign that senior officials from Pyongyang and Washington might sit down to discuss ways to slow the North's determined march toward inclusion among the world's nuclear weapons powers.
Friday's missile, which Seoul said was the 19th ballistic missile launched by North Korea this year, triggered sirens and warning messages in northern Japan but caused no apparent damage to aircraft or ships. It was the second missile fired over Japan in less than a month. North Korea conducted its sixth and most powerful nuclear test on Sept. 3.
The missile was launched from Sunan, the location of Pyongyang's international airport and the origin of the earlier missile that flew over Japan. Analysts have speculated the new test was of the same intermediate-range missile launched in that earlier flight, the Hwasong-12.
That missile is linked to North Korea's declaration that it means to contain the U.S. Pacific island territory of Guam, which is the home of important U.S. military assets and appears well within the Hwasong-12′s range.
Friday's missile test was met with the usual outrage. South Korean President Moon Jae-in ordered his military to conduct a live-fire ballistic missile drill in response to the North Korean launch and instructed government officials to pursue "stern" measures to discourage Pyongyang from further provocations … (read more)
Source: APNews