R.I.P. IMDb Message Boards, 2001-2017

Upon the closing of the IMDb message boards, we take a look at what we've lost.
Tara Yarlagadda writes: Legions of online film fans wept as the Internet Movie Database (IMDb), the most popular film and TV review site with upwards of 250 million users, announced that it's shutting down its message boards today, February 20. I was among them: For the past five years, the IMDb message boards have been my go-to spot for reading up on film and TV.
It wasn't just new movies; I'd check out classic forums like The Breakfast Club and be swept back into memories of high school sleepovers with John Hughes and popcorn. Facebook, Reddit and Twitter were no substitution for the rich—and yes, often trollish—discussion on the IMDb forums.

---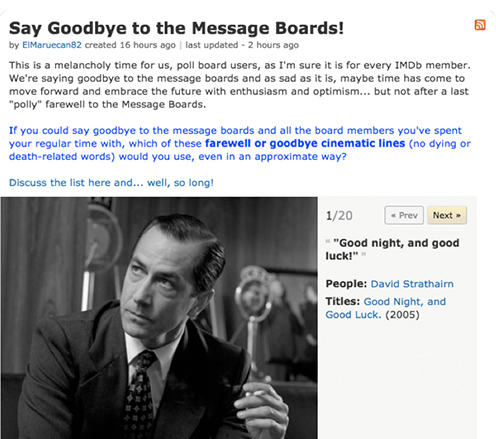 Facebook certainly fosters passionate conversations, but what if you don't have any John Cusack loving friends within your social network? Or what if you don't want them to know about your My Little Pony obsession? Twitter would be another option, but discussion on Twitter is usually contained to trending topics—not suitable for intense discussion of say, Breakfast at Tiffany's, and Reddit, arguably the best alternative to IMDb, has limitations in its interface. Not all films and TV shows have their own subreddit, and more casual users might not take the time to create one.
On IMDb, users could click on the page for any program, scroll down to the message boards, and engage in a heated debate. It was user-friendly and anonymous. It contained a community for fans with niche film and TV interests—something that I lacked in the real world as a young adult but found on IDMB. Clearly, I wasn't alone. … (read more)
Source: Paste